The Spectrum Z®510 Full Color System produces high-definition, full-color prototypes quickly and affordably. Superior inkjet printing technology creates parts with crisply defined features, enhanced accuracy, and precise color, so you can print and evaluate physical models of design concepts in their nearly finished state.
Rapid 3D printing of high-definition models means you no longer have to wait for prototypes. This unique, 24-bit color, 3D printing capability produces color models that accurately reflect your original design data. Color models communicate more information than any other type of rapid prototype, providing you with a strategic advantage in product development.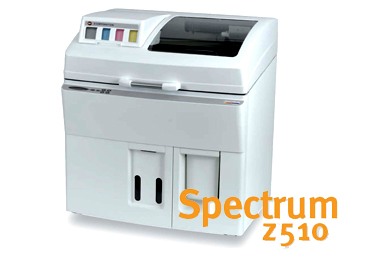 Technical Specifications
Build Speed: 2 layers per minute
Build Size: 10" x 14" x 8"
(254 x 356 x 203 mm)
Layer Thickness: User selectable at the time of printing; 0.0035"-0.008" (.089-.203 mm)
Material Options: High performance composite, elastomeric, direct casting
Resolution: 600 x 540 dpi
Number of Print Heads: 4
Equipment Dimensions: 42" x 31" x 50"
(107 x 79 x 127 cm)
Equipment Weight: 450 lbs. (204 kg)
System Software: Z Corporation's proprietary software accepts solid models in STL, VRML PLY, and 3DS file formats as input. ZPrint™ software features 3D viewing, text labeling, and scaling functionality. The software runs on Microsoft Windows* NT, 2000 Professional, XP Professional and Vista.